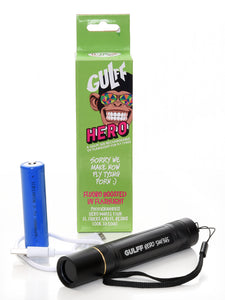 The GULFF Hero UV flashlight is a stylish, highly efficient and innovative solution for drying almost all UV adhesives in fly-tying. It is especially useful for a user that takes photos of the flies for social media.

As a whole, Hero represents the very best in its field. Hero is equipped with a high quality 5W LED chip and has a wavelength of 365nm in line with other GULFF torches, which has been found to be optimal for UV adhesives. The torch has a special filter that pulls out all the fluorescent material from the target surface but does not illuminate the rest of the environment. This, for example, makes taking photos easier and takes on a completely new meaning – gorgeous fluorescent flies against a dark background. In addition, the blinding effect is minimal. Undoubtedly, Hero is a great product in terms of value for money when it comes to fulfilling even high ambitions for a UV torch.

Hero is equipped with USB charging directly to the housing. Package includes 5W/365nm torch with filter, 18650 rechargeable battery and USB cable. 1-year warranty. The warranty covers the torch housing and the LED, not the battery or the cable.